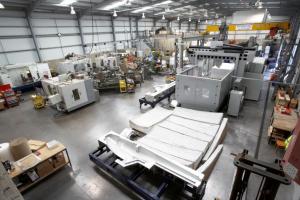 With quality embedded in our design approach, team-work and our dedication to the most accurate measurements and the tighest tolerances, it's obvious that we can make just about anything.
From reverse engineering using digital scanning equipment, to full 3D modelling from last-minute data delivered via email, we have the capacity to supply you with exactly what you want.
For examples of the full range of our capabilities, have a look at the list on your left.
Capacity
Large 5-Axis - Eumach -DVM 4025
5000mm x 2500mm x 1300mm Continuous A - C axis
Large 5-Axis - Nicolas Correa Rapid 30
3000mm x 2000mm x 1300mm Continuous B - C axis
5 -Axis - Mazak VTC800-30SDR
3200mm x 800mm x 700mm - Simultaneous Trunions
Small 5-Axis
1600mm x 700mm x 1000mm Continuous A - B axis
3 Axis
3000mm x 1970mm x 800mm
2500mm x 2200mm x 800mm
2200mm x 1200mm x 900mm
2060mm x 900mm x 1350mm
2060mm x 900mm x 1000mm
1600mm x 800mm x 700mm
1600mm x 800mm x 700mm
1400mm x 700mm x 900mm
1400mm x 700mm x 900mm
1300mm x 630mm x 600mm
1270mm x 630mm x 600mm
1000mm x 500mm x 500mm